Ed Vaizey persuaded to wear T-shirt protesting against restrictive Olympic marketing rules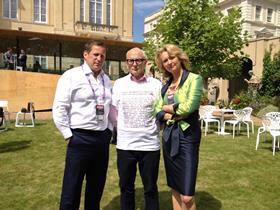 Culture minister Ed Vaizey has worn a T-shirt protesting against the marketing gag on 2012 firms.
The minister, a keynote speaker at yesterday's creative industries summit held at Lancaster House as part of the British Business Embassy, made the gesture after being challenged by RIBA president Angela Brady and New London Architecture chairman Peter Murray on the No Marketing Rights Protocol, enforced by Olympic organisers.
Murray attended the government-run event wearing the T-shirt, which listed non-sponsor construction firms including Buro Happold and David Morley Architects beneath a headline stating: 'These Architects and Engineers designed the London Olympics'.
Since January, Building has used its 2012 campaign to highlight complaints from firms that the marketing protocol has prevented them getting due credit for their Olympic achievements with the issue gaining greater prominence as the Games have approached.
Despite a call from ODA chairman Sir John Armitt for the government to take "urgent action" to relax the protocol earlier this month, Vaziey's Department for Culture, Media and Sport has said it cannot be tackled until 2013.
Murray said the minister initially said he wanted to wear the T-shirt to last night's glittering evening reception for the creative industries at the Royal Academy of Arts.
"We went up to him and he was being very friendly and said 'oh I'll wear [the T-shirt] to the party'," said Murray. "But it was a bit too tight for him so he took it off quite quickly.
"I think that maybe he doesn't toe the line as much as other ministers do but what it comes down to is that it probably isn't up to him."
Brady told Building she had also approached culture secretary Jeremy Hunt at the evening reception about the issue.
"He was coming out of the Royal Academy and I said that we still have an issue with the gagging of architects. He said he thought it had been sorted.
"I said you have got to be able to showcase the best of British architects and that something has to be done."
Last week, the RIBA president wrote to Olympics minister Hugh Robertson to demand action on the protocol, which is enforced by the London Organising Committee of the Olympic and Paralympic Games (Locog).
A government spokesperson said: "The building of the Olympic Park and other Games venues for London 2012 has been a great success story for the UK. We understand and support the reasons why restrictions have been in place to protect the marketing exclusivity of London 2012 sponsors.
"Government, however, is committed to working with relevant partners, most notably the BOA and through them the IOC, to find a way to ensure that contractors and sub-contractors can seek a form of recognition of their superb contribution to the Games to support them in competing for new contract opportunities.
"DCMS is in discussion with the BOA and hopes to have a workable solution in place through which supplier companies can make reference to the work they have undertaken by the end of 2012. The discussions will run into the autumn given the immediate focus of both the Government and the BOA/BPA on delivering a successful Olympic and Paralympic Games."