Grant Thornton is expected to be named administrator of stricken Swansea firm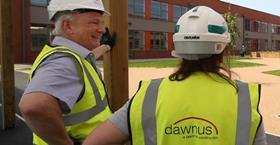 Swansea-based contractor Dawnus is on the brink of collapse, with the firm tipped to fall into administration later this morning.
The £172m-turnover firm has a slew of public contracts in Wales, including to build the £12m Kingsway redevelopment in Swansea, three schools in Powys and a flood defence scheme in Cardiff.
It has 700 staff across the UK working in construction, development, commercial management, plant hire and recycling.
It also has operations overseas, notably in South Africa and Sierra Leone.
According to Wales Online, accountant Grant Thornton is expected to be appointed to act as administrators.
The Welsh arm of the Specialist Engineering Contractor Group said it was concerned about the knock-on effects for businesses in the nation, comparing the effect of the collapse to that of Carillion.
The group's national executive officer, Catharine Griffiths-Williams, said: "Nearly all the work carried out by Dawnus was outsourced to SMEs which will now bear the brunt of the losses from the insolvency."
She added: "Again this highlights the financial fragility of the large construction firms and the consequent risks to their sub-contractors which could now lose millions of pounds."
Founded in 2001, Dawnus has a number of offices across the UK including London, Birmingham and Exeter.
In its last set of accounts for the year ending December 2017, Dawnus Group posted a pre-tax loss of £1.4m from a pre-tax profit of £3.6m in 2016.
The firm said in its 2017 accounts, which were filed at Companies House last June, that it been forced to make writedowns on a number of completed jobs because of "client solvency concerns".