Former Celotex employee admits he should have challenged move
A former employee at the maker of the flammable insulation used for Grenfell Tower's refurbishment has said the decision to create a misleading test report of the product was made by "senior management", the inquiry has heard.
Jamie Hayes, who was a technical services officer at insulation manufacturer Celotex, said the firm was hoping to achieve a lucrative sale by driving up profit.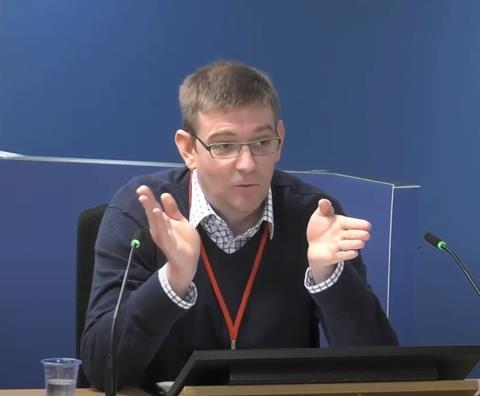 The inquiry has heard how the firm rebranded its combustible FR5000 insulation as safe for use on buildings above 18m in height – even though it failed a first test and only passed a second using added components.
The 'new' product, which had been renamed RS5000, was later installed as part of the cladding system on Grenfell Tower which has been blamed for spreading the deadly fire which killed 72 people in 2017.
Hayes admitted it was his idea to add non-combustible magnesium oxide boards to the test rig to protect the insulation from fire during the second test – and so increase the chance that this test would pass.
But he insisted that he did not think at the time that the added components, which also included thicker cement fibre panels, would be concealed to make it appear as if the insulation could be used in a broad range of applications and not just the specific set up used in the test.
After the insulation had passed the BS8414 test, which is needed to certify it as safe for use on high rise buildings, reference to the added components was removed from the test report and marketing material given to the Celotex sales team.
Inquiry barrister Richard Millet QC asked Hayes: "Was it your view that Celotex was engaged in trying to create a misleading test report?"
"Yes, that's exactly what was happening," Hayes replied.
"Why didn't you challenge it?" asked Millett.
Hayes replied: "My understanding was and is now that a decision had been made by senior management of Celotex."
He added: "It was a failure of courage and a failure of character and a failure of moral fibre on my part not to [challenge it]."
Hayes told Millett that "the drive for profit making and increasing the company's share price had been systemic in the Celotex culture for some time".
He said that under the firm's former parent company, Amsterdam-based private equity firm AAC Capital Partners, "the goal of the management at that time was to make the business as profitable as possible in terms of how it would look on a balance sheet, and so to increase its value for somebody who was to buy it afterwards".
But he said that "this culture became heightened" after the firm was purchased in 2012 by French multi-national Saint Gobain, which the inquiry heard last week had set a target to increase profits by 15% from the sale of new products.
Asked by Millett what the "the effect of this requirement from on high" was on colleagues, Hayes gave the example of the speed at which the second successful fire test had been arranged for FR5000, which had failed an earlier test in February 2014.
Hayes said: "After the first 18 metre test failed, a second test was arranged incredibly quickly, and although it didn't seem that strange to me at the time, I look back on that now and think it's almost unbelievable that I think only a few months passed between the failure of a major test and how quickly a second test was arranged, authorised, paid for."
He added: "They were not prepared to wait any longer than was humanly possible to progress that project, and I guess the ultimate goal of that project was to have a product which could be sold to increase profits."
Celotex said in its opening submission that a third test had been commissioned in April 2018 following the Grenfell fire which replicated "as closely as possible" the system described in the BRE test report and in Celotex's marketing literature, and this test had passed.
The inquiry continues.