Celotex RS5000 was the same insulation as an earlier product, which had failed fire test for use on tall buildings
The insulation boards used on Grenfell Tower's ill-fated refurbishment were the same as an earlier product that was not safe for high rise buildings, the inquiry has heard.
Thursday's hearing was told how insulation manufacturer Celotex rebranded its FR5000 panels as suitable for use on buildings above 18m in height to compete with an insulation product manufactured by rival firm Kingspan.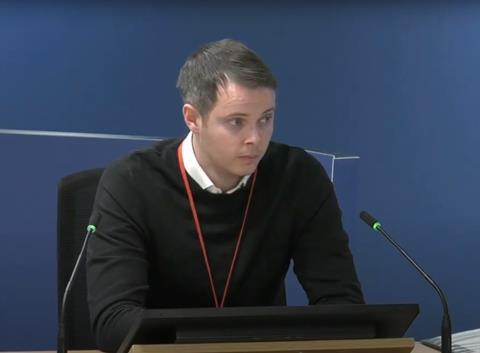 The 'new' product, which Celotex named RS5000, was later installed on the 67m tall Grenfell tower despite being effectively the same as the firm's earlier FR5000 – which had failed the BS8414 test needed to certify it as safe for use on high rise buildings.
The inquiry was shown a witness statement from Celotex technical services team leader Jamie Hayes, in which he said: "RS5000 was neither an entirely new chemical product, nor one of altered composition. Instead, it was simply the rebranding of the existing FR5000 product to be used in above 18m projects."
On Wednesday, the inquiry heard how RS5000 had been launched by Celotex in August 2014 to compete with Kingspan's Kooltherm K15 insulation, which dominated the market for insulation on buildings above 18m.
Prior to the launch of RS5000, Celotex had been unable to compete with Kingspan in this market because it did not have any products which had passed the required tests.
Celotex products manager Jonathan Roper told the inquiry how the drive to develop a rival to K15 was spurred on after the firm was purchased in 2012 by French multinational Saint Gobain, which had set Celotex a target to increase profit by 15%.
The job of developing the new product had been given to Roper, who was just 23 at the time, had no technical expertise and was working in his first job since finishing university.
Roper, who worked at Celotex between May 2012 and April 2016, admitted that he "did have some concerns" about his lack of experience when he was promoted to his new role.
He added that at no point during his time at the firm did he ever attend any course or training on building regulations or the approved guidance documents on using insulation systems on buildings above 18m.
Inquiry barrister Richard Millett QC asked Roper: "Did you understand that FR5000 was the same product as RS5000?" Roper replied: "Yes."
Millett asked: "And that RS5000 was now to be marketed at the over 18m market?" Roper said that he did. Millett said: "And of course FR5000 hadn't done that because it hadn't passed a BS8414 test?" Roper replied: "Correct."
Emails shown to the inquiry detailed how Roper had initially attempted to get FR5000 accredited for use above 18m with further testing,
Having observed how Kingspan's rival K15 product was being used on a broad range of high rise projects on the basis of a BS8414 part 1 test on a specific test rig, Roper sought a similar route to market for FR5000.
But he described how Celotex staff had found it "almost impossible" to get test data from Kingspan on K15 to shed light on how the insulation was being used in applications other than the one which passed the test.
He had emailed Building Research Establishment (BRE) business group manager Stephen Howard in October 2013 to ask how it was possible that Kingspan had been selling its K15 insulation so widely.
He told Howard: "We are surprised that they feel confident enough to allow their product to be used in buildings their fire test doesn't cover, unless they have a report to say otherwise."
Howard replied: "If we have issued a test report on a system, then the onus is on the building owner and building control to ensure that the system being installed is covered by a test report. I am not sure that I have much more to add."
Asked by Millett whether he was surprised Howard was "not more concerned about what Kingspan were doing" he replied: "I was hopeful that he would shed some clarity on the matter, and he didn't."
Roper then emailed senior draughtsman Luke Cresswell at cladding design firm Simco about setting up a test rig for FR5000.
In the November 2013 email, he told Cresswell that even if just one system is tested, BRE "understand that commonly this allows insulation products to be used with a variety of systems in practice".
Asked by Millett if this was really the BRE's advice, Roper admitted that it wasn't, adding that he had claimed that it was in his email to Cresswell because of Howard's apparent tolerance of his description of how K15 was being marketed.
Millett asked: "Why were you telling Mr Cresswell that commonly this allows insulation products to be used with a variety of systems in practice?" Roper replied: "Because that was what was happening".
On Wednesday, the inquiry heard how the RS5000 insulation used on Grenfell Tower's refurbishment had only passed the BS4814 test needed for use on buildings above 18m because it had been tested as part of a system which included extra components. The hearing was told how the test report for the system was then used by Celotex to market the RS5000 insulation alone.
The second module of the inquiry is focusing on the role of the refurbishment's materials in the 2017 fire at Grenfell tower, which killed 72 people.
The inquiry continues.