GCS latest: Infrastructure minister says "creating a stable environment" for investment is the government's most important role in construction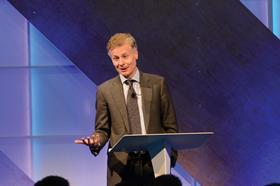 The infrastructure minister has called on the construction industry to work with the government to help create a "stable environment" for long-term infrastructure investment.
Lord Deighton told the Government Construction Summit in London today that "creating a stable environment" for investment was the government's most important role in construction.
He said: "The more intelligence you can give us about how to create that stable environment the better - I think you'll find us very responsive."
In Q&A session Paul King, UK Green Building Council chief executive, challenged Deighton to incorporate a national plan to reduce carbon emissions in the built environment into the National Infrastructure Plan.
Deighton replied: "I'm an enormous fan of putting emissions reductions as one of our NIP projects. I'd be happy to look at that going forward."
The government will publish an update on its National Infrastructure Plan this summer with "even more detail", Deighton added.
He said his other priorities for construction were speeding up the planning system and "ensuring proper finance is in place".
Deighton said this month the government would announce latest progress in achieving 15-20% cost savings on infrastructure which will show "£3bn of annual savings".
Deighton added that he was worried about construction capacity: "My concern at the moment is that we have the capacity to deliver this pipeline."
Deighton said: "I think there's an enormous amount of consensus among the political parties.
"Behind the day-to-day Punch and Judy, when you speak privately with the other parties there's not much to distinguish us.
"It's about effectiveness of delivery."