Developer plans starts on two major schemes next year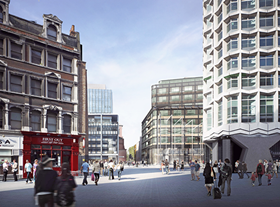 White Collar Factory developer Derwent London said it plans to start work on over 400,000 sq ft of space next year – despite worries over what sort of agreement the UK will get over Brexit.
The firm admitted: "As a predominantly London-based group, we are particularly sensitive to any factors which impact upon London's growth and demand for office space.
"[Brexit] negotiations are likely to be ongoing during 2018 and the operating framework facing UK businesses and the effect on London post-Brexit cannot be accurately predicted."
But the firm said it will start next year on the £260m Soho Place scheme in the West End, a 285,000 sq ft mixed-use site on the corner of Oxford Street and Charing Cross Road.
Designed by AHMM, project manager on the scheme (pictured) is Gardiner & Theobald with Aecom as QS. Engineer is Arup with a main contractor due to be appointed later this year.
And it will begin a 125,000 sq ft on a scheme next door to the White Collar Factory, built by Multiplex, called the Featherstone Building, which will involve knocking down an existing six-storey building called Monmouth House.
Derwent is due to take possession of the site at Old Street roundabout in December with the development, designed by Duggan Morris, including offices and retail.
Derwent chief executive John Burns said: "London's robust occupier demand has endorsed our actions to push ahead with recent developments, and we are now in a strong position to proceed with our next two major projects.
"We remain confident that Derwent London will continue to deliver the buildings for today's occupiers and grow our earnings over the medium term."
The developer said that Laing O'Rourke is due to complete the £116m Brunel Building, an office scheme being built next door to Paddington station, in the first half of next year.
Derwent said Make's £200m scheme at 80 Charlotte Street in Fitzrovia, the developer's largest with 321,000 sq ft of space which is being built by Multiplex, is due to finish in the first half of 2020.
Revenue at the developer in the six months to June edged up 2% to £727.8 million.