Former Saatchi building revamp to start this year, but developer considers Savile Row scheme switch from resi to offices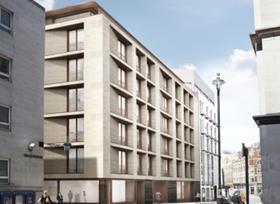 Derwent London will embark on a £329m construction push over the next two years, after committing to major schemes including the £150m revamp of west London's Saatchi building and a 240,000sq ft office scheme in Paddington.
In strong full-year results for 2014 published this morning, Derwent said it will begin construction on the 380,000 sq ft Make-designed part-refurb, part-new build redevelopment of Saatchi & Saatchi's old headquarters in Fitzrovia this year. Bam Construct, Brookfield Multiplex and Mace are in the running for the contract.
Derwent has also committed to building its Fletcher Priest-designed 55-65 North Wharf Road office building in Paddington in 2016.
In total the firm said it will now spend £329m on development projects over the next two years.
Elsewhere, the firm said it is reconsidering its plans to convert the office building where it currently has its headquarters, 25 Savile Row, into 29 luxury apartments.
Derwent won planning for the conversion scheme (pictured) in December, but said it was rethinking the scheme due to "rising office rents and the relatively higher costs in developing luxury apartments".
In its results, the firm posted a 8% rise in pre-tax proift to £62.3m, up from £57.8m in 2013.
The rise in profit was put down to a 5.8% increase in rental income to £128.7m in 2014, up from £121.7m in 2013.
New lettings secured totalled £9.2m, and the company reported that it had secured £5.9m from lettings in 2015 so far, with £2.1m under offer. The company completed Turnmill's project in Clerkenwell, which provided 58,200ft² of offices space and has been let to Publicis.
The company also started the 105,000ft² development at The Copyright Building W1 and has applied for planning permission to develop a 110,000ft² hotel in south London as well as projects at 25-9 Berners Street and Savile Row.
Commenting on the results, Robert Rayne, chairman, said:"I am pleased to report another very strong year for Derwent London in 2014. Our long-term strategy of investing in innovative design-led projects in London's emerging villages appeals to occupiers and investors, as the definition of London's core office locations continues to evolve."