Developer plans to spend £280m on development projects over the next two years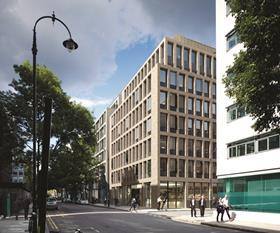 Derwent London plans to undertake its largest ever development programme by committing around £280m to development projects over the next two years, the client announced today.
The push will include "one major project" of between 200,000 to 400,000 sq ft in both 2015 and 2016.
Derwent London said schemes at 80 Charlotte Street (pictured) and 55-65 North Wharf Road – both of which have planning permission and together represent 620,000 sq ft of development – were among the schemes being considered.
Derwent put the £150m Make-designed redevelopment of 80 Charlotte Street on hold last July after the occupier, Saatchi & Saatchi, part of Publicis Groupe, signed up for space from mid-2014 at under-construction Derwent buildings Turnmill and 40 Chancery Lane, meaning it will occupy at 80 Charlotte Street longer than expected.
Derwent added it was working on proposals to redevelop 9 Prescot Street, 25 and 29 Berners Street and Monmouth House, which together could represent a further 290,000 sq ft of development activity.
In total Derwent has 1 million sq ft of schemes with planning permission and is actively appraising a further 900,000 sq ft of schemes.
Derwent is on site on 586,000 sq ft of projects, including 293,000 sq ft office building the White Collar Factory, and will start work imminently on 40,000 sq ft retail scheme Tottenham Court Walk.
Derwent completed 248,100 sq ft of major projects last year, which are 100% let.
The firm announced its development push in a statement accompanying its full-year results to 31 December 2013, which showed a 10% increase in pre-tax profit to £57.8m, up from £52.5m the previous year.