Developer has submitted plans to redevelop its own office into 58,000sq ft housing scheme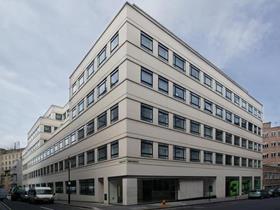 Derwent London has revealed plans to redevelop its own Mayfair offices into a major residential scheme.
In strong half-year results posted this morning, the developer said it has submitted plans to the City of Westminster to redevelop 25 Savile Row, where its offices are currently based, into a 58,000 sq ft residential development.
The scheme has now been added into Derwent's pipeline.
Derwent said it has now also submitted plans for a 105,000 sq ft office scheme at 25-29 Berners Street in Fizrovia.
Derwent said progress was ongoing on several schemes currently on site, including White Collar Factory, Turmill and 40 Chancery Lane.
Derwent said it was taking steps to mitigate against rising construction prices, which it expects to rise by 4-6% per annum "for the next few years" based on "a consensus view".
Derwent said it was responding by "fixing prices early based on final design information", adding: "Our experience and long-standing relationships within the industry have helped us in this regard."
In the six months to 30 June 2014 Derwent posted a 69% increase in pre-tax profit to £371.4m, up from £219.8m the previous year.