Developer has let 619,900 sq ft in nine months at 11% above expected value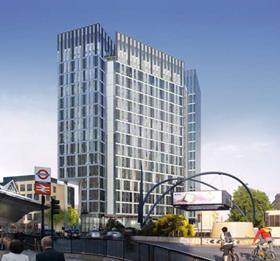 Derwent has announced record lettings in the first three quarters of this year, in a further sign of improving occupier demand in London.
The developer said it had let 619,900 sq ft in the nine months to 30 September at an annual rent of £5.6m – 11% above the value it expected in June.
Derwent did not provide any updates on its development pipeline. It confirmed that it plans to start construction on 330,000 sq ft of developments within the next six months – the 289,000 sq ft White Collar Factory (pictured) and a 41,000 sq ft refurbishment of 18-30 Tottenham Court Road.
John Burns, chief executive of Derwent London, said: "The rental growth and strong demand we see for Derwent London's brand of space, together with the improving economic outlook, mean that we are confident that our portfolio's estimated rental value growth will be at the top end of the 4-6% range that we predicted for the year.
"New lettings are achieving significantly above this level. Our successful refinancing means that we are now even better placed to fund our development pipeline and invest in additional properties."