Developer will change its name to in bid to formalise Cathedral acquisition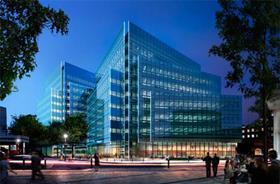 Developer Development Securities is to rebrand and change its name to U + I.
Chief executive Matthew Weiner announced the name change, which is subject to shareholder approval, while reporting the developer's interim results to the City. He said it would formalise the integration with Cathedral Group and "captures the vision and values of our evolved business."
He also said the integration of Cathedral – which was bought for an initial £20.9m in May 2014 but which could rise to £27.4m – was "largely completed".
In the six months to 31 August 2015, Development Securities reported a pre-tax profit of £1.8m, down from £18m the previous year.
However, the firm said last year's figure was reported before exceptional costs relating to £7.9m for the restructure of Euro denominated loan notes and £2.7m relating to the acquisition of Cathedral.
It also reported revenue of £75.6m in the six months to 31 August 2015, down from £92.4m for the same period the previous year.
Development Securities said it has also secured five new regeneration projects in "well-connected London City region locations" which it says demonstrates its ability to acquire off market regeneration opportunities.
The firm has secured three "well-let, income-producing" sites in Charlton, London for £15.1m at a blended net initial yield of 3.5 per cent, and has entered into a joint venture with a fund managed by Proprium Capital Partners L.P. to co-fund the acquisition of the sites.
Dev Secs has also secured two regeneration sites in Maidstone and Ashford in Kent.
In Maidstone, the firm has exchanged contracts to acquire a 4.9-acre site that benefits from an existing planning consent for 192 residential units and 180,000 sq. ft. of commercial space.
While in Ashford, it has completed the purchase of a nine-acre site for £4.8m and simultaneously secured the sale of four acres of the site to a residential developer.
Dev Secs will now progress a masterplan for a mixed-use development of the remaining five-acre site.