Developer of Paramount Park leisure resort sets out timetable for massive scheme on Swanscombe Peninsula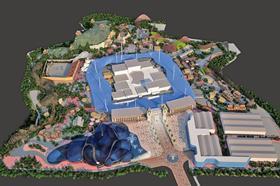 Construction of a £2bn leisure resort in Kent to rival Euro Disneyland is expected to begin in 2016, the developer of the project has said.
The developer of the Paramount Park scheme to transform the derelict Swanscombe Peninsula into a resort this week outlined a proposed timetable for the project as part of the first informal phase of the public consultation.
London Resort Company Holdings (LRCH) said following the consultation and planning process, construction of the proposed resort could get underway in 2016, with the opening in the summer of 2019.
LRCH was launched in 2012 as a joint venture between Development Securities, aggregates firm Lafarge and contractor Brookfield Multiplex, but the parties were bought out by Kuwaiti European Holdings, which now holds a 75% stake in the project, in August 2013.
The resort, called London Paramount Entertainment Resort, will feature a water park, theme park, sporting facilities, an entertainment street, a staff training academy and about 5,000 hotel rooms.
Project leader Tony Sefton told Kent Online that the developer is "committed to the consultation timetable".
"Come October, the next stage of exhibitions will be more detailed. Then the fun stuff starts to come out. The key message is 'it's coming'. It's happening now," he said.
Ray Hole Architects and FaulknerBrowns Architects have undertaken the initial masterplanning and feasibility studies for the development.
London Paramount Entertainment Resort - timetable
May 2014 - Gains status as Nationally Significant Infrastructure Project, bypassing local planning requirements
June 2014 - Begins first phase of public consultation, asking residents and interested parties how they would like to be told about the plans
Autumn to winter 2014 - First stage of formal public consultation
Spring to summer 2015 - Second stage of formal public consultation
Summer 2015 - Apply for planning permission direct to central government, known as a development consent order
Summer 2015 to Summer 2016 - Detailed design work and procurement of contracts
Autumn 2016 - Decision by Secretary of State
Autumn 2016 to spring 2019 - Construction
Summer 2019 - Grand opening
Source: Kent Online