Highways and transport sector is UK's biggest emitter
The Department for Transport has announced £30m in funding to support innovations to decarbonise the UK's highways.
The Live Labs 2 competition will support projects to decarbonise local highway infrastructure in regions across the country, with a particular focus on construction and maintenance.
The competition, organised by the Association of Directors of Environment, Economy, Planning and Transport (ADEPT), is part of the government's drive to achieve net zero emissions by 2050.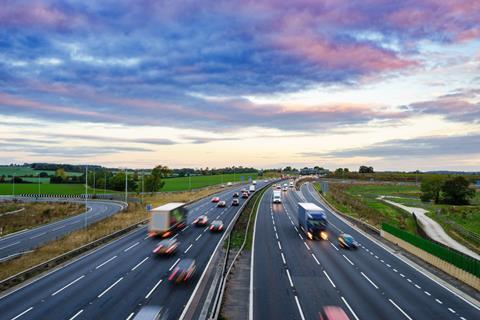 ADEPT president Paula Hewitt said local authorities were "perfectly placed" to lead the drive for net zero highways.
"The highways and transport sector is the UK's single biggest carbon emitter and although we are seeing a transition to electric vehicles, there is a huge gap where we are yet to tackle road infrastructure and maintenance," she added.
The first round of the Live Labs programme, launched in May 2019 with the backing of £22.9m, supported the creation of eight local projects.
These included fibre cables detecting vibrations from vehicles and dynamically changing signal junctions combat congestion, trials using drones to detect potholes in Kent and plastic roads in Cumbria to boost value for money in construction.
In Staffordshire, the county council installed plant-based living walls to reduce roadside emissions by acting as natural filters.