Government confirms delay and says it needs more time to test air quality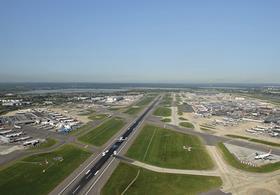 Construction leaders have expressed their dismay after the government confirmed it will put back its decision on whether to build a new runway at Gatwick or Heathrow until next summer.
In a statement published yesterday evening, the government said it will undertake further research which it expects to conclude next summer, looking at environmental impacts and testing the air quality analysis presented for each airport in the Davies Commission.
The decision to postpone an agreement on a new runway was taken by the Cabinet's airport subcommittee, chaired by prime minister David Cameron.
Global construction giant Aecom slammed the delay. Richard Robinson, the group's chief executive for civil infrastructure in EMEA, said: "Years of political procrastination have impeded many firms' ability to plan for their future in the UK. The country is already lagging behind global rivals with nearly double our aviation capacity and far more nimble mechanisms for delivering new infrastructure. Further postponement could cripple the country's competitiveness."
CECA chief executive Alasdair Reisner said: "This is extremely disappointing news. The UK economy loses nearly £1.2 billion a year because of a lack of major airport capacity.
"There is a pressing need for more airport capacity in the South East, and unless the congestion problem is addressed, the UK will become a less attractive place to do business with and to visit."
Mark Reynolds, chief executive at Mace, said: "The Government's choice not to make a decisive decision and whole-heartedly implement the Airports Commission's recommendation of a new runway at Heathrow, is bad news for the UK, London and business.
"This further delay will cost the UK economy another £5bn and put us even further behind other European cities that already operate major hub airports."
Defending the delay, transport secretary Patrick McLoughlin said: "The case for aviation expansion is clear – but it's vitally important we get the decision right so that it will benefit generations to come. We will undertake more work on environmental impacts, including air quality, noise and carbon.
"We must develop the best possible package of measures to mitigate the impacts on local people. We will continue work on all the shortlisted locations, so that the timetable for more capacity set out by Sir Howard is met.
"At the first opportunity I will make a statement to the House to make clear our plans."