American billionaire's Trump Entertainment Resorts has debts of $1.74bn as gambling revenues dropped last year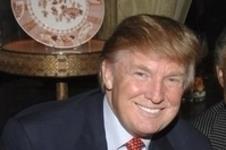 Donald Trump's casino organisation has filed for bankruptcy today with debts worth $1.74bn.
Trump Entertainment Resorts Inc ran into trouble after gambling revenue in Atlantic City fell off a cliff at the end of last year, falling by a record 7.6%.
Nine other of Trump's companies includuing Trump Plaza Associates, Trump Marina Associates and Trump Taj Mahal Associates have also sought protection and a document as part of the petition for bankruptcy stated the companies had consolidated assets of $2.1bn and debt of $1.7bn as of 31 December 2008.
Trump Entertainment, the owner of three casinos in Atlantic City, missed a $53m interest payment at the start of December. The creditor-extended grace period to make the defaulted payment expires today.
Bovis Lend Lease is one of the company's unsecured creditors and is owed $7.5m.
Donald Trump and his daughter Ivanka stepped down from the company's board on Friday last week after a row with shareholders.