Team including Great Portland Estates sells AHMM-designed office block for £266m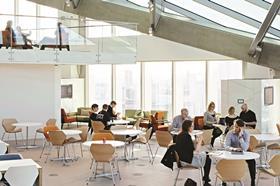 The developer behind the three year old 240 Blackfriars building at the southern end of London's Blackfriars Bridge has sold it to a Dubai firm for £266m.
The 20-storey building was designed by former Stirling Prize winning architect AHMM and built by Mace, opening at the beginning of 2015. Interiors were designed by US practice Gensler – named last week as the world's biggest architect.
Its tenants include events organiser UBM, owner of Building magazine, travel guides publisher Lonely Planet and consultants Ramboll UK and Hurley Palmer Flatt.
It was developed by Great Portland Estates and Ropemaker Properties and has been sold to Wolfe Asset Management, which is part of the Easa Saleh Al Gurg Group based in Dubai and whose primary interests are retail and construction.
Wolfe group general manager Abdulla Al Gurg said: "The 240 Blackfriars Road building is iconic in its design and an instantly recognisable feature of the London skyline. It perfectly fits within our strategy of owning best in class commercial buildings in prominent London locations. Southbank is regarded as one of London's most vibrant districts and thriving sub-markets."
The area around Blackfriars is undergoing a major transformation with Kier on site with a 13-storey scheme to build a hotel at 40 Blackfriars Road that will be operated by hip hotel group Hoxton.
And in July, planners in Southwark gave the green light to a 53-storey tower in an emerging cluster on London's South Bank.
Designed by Stirling Prize-winning architect Wilkinson Eyre, the scheme at 18 Blackfriars Road, opposite the 240 building, will be the centrepiece of a six building scheme with the block containing 227 flats above retail. A 34-storey office block by Brisac Gonzalez with a ground-floor music venue is also planned.
Wilkinson Eyre's tower will be taller than the 50-storey One Blackfriars Multiplex is building at the southern end of Blackfriars Bridge which has been designed by architect Ian Simpson's firm SimpsonHaugh.
Across the road from that scheme McGee is tearing down the mid-rise Ludgate House, opened by former prime minister Margaret Thatcher in 1989, which is set to be replaced with a 49-storey tower designed by PLP.