Interest from Poland, Romania and Bulgaria has fallen by almost a third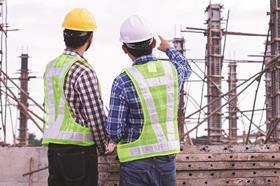 The number of Eastern Europeans looking for UK construction jobs fell sharply last year, new research has revealed.
According to new research by GK Strategy and onefourzero, there has been a dramatic reduction in Google searches for construction sector jobs across Poland, Romania and Bulgaria in 2017.
Demand for UK jobs in the housing and construction sector in Romania fell by 36%, the greatest of any of the countries analysed, while total searches for the year were down 30% compared with 2016.
Robin Grainger, GK and onefourzero chief executive, said: "Interest in UK jobs from EU migrants has fallen dramatically [after Brexit] and is most pronounced in construction and agriculture."
The drop off in interest from Romania is significant given workers from that country make up a large number employed in the UK's housebuilding industry.
A survey last year by the Home Builders Federation said 17.7% of the workforce are from the EU, with more than half from Romania.