French energy giant sets new budget parameters ahead of its annual shareholder meeting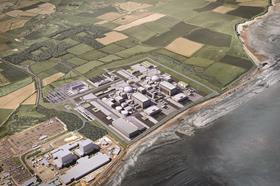 EDF has admitted the cost of Hinkley Point C could rise to almost £21bn, £3bn more than its previous estimate.
Ahead of its annual shareholder meeting, the French energy giant said in a statement that the final cost could reach £20.7bn with a contingency-margin built in.
EDF said the cost would remain £18bn in nominal terms, the budget it had set last October, a figure it says has "always included a provision for risk and contingencies."
It added that EDF and China General Nuclear – which has a 33.5% stake in the project – have committed to provide "15% of additional capacity amounting to £2.7bn" if needed.
The firm said it "simply reflects normal, prudent good practice for any construction project to know that the money would be available in the case of more extreme scenarios."
EDF added that it doesn't expect to use the extra cash as "Hinkley Point C will be on time and on budget at £18bn."
The firm's three other nuclear power plants, using the same EPR reactor which will be used at Hinkley, currently being built in France, Finland and China are all delayed and over budget.
The statement comes as reports suggest the Chinese government is drawing up secret plans to build two of its own reactors at Hinkley if the current deal collapses.
Former energy secretary Lord Howell told The Times that the Chinese have a "plan B" for the project and believe they can build two Chinese reactors at Hinkley Point C on a faster timetable than EDF.
However, in response to the reports a DECC spokesperson said there is "no proposal for the Chinese to build a reactor at Hinkley."
The spokesperson added: "EDF own the Hinkley site not Chinese investors. Approval is required via the Generic Design Assessment for anyone wishing to build their own reactor."