Khan takes London while SNP and Labour struggle to wins in Scotland and Wales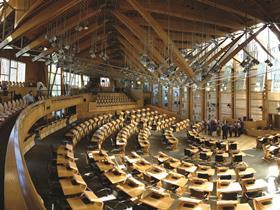 The electoral landscape across the UK has been shaken up, with Sadiq Khan reclaiming the London mayoralty for Labour, while the SNP and Labour have struggled to wins in Scotland and Wales.
Khan and the returned governments of Scotland and Wales have all put affordable housing at the top of their priority lists, alongside policies to boost infrastructure spending and address skills shortages in construction (See boxes below).
Khan topped the poll in London with a 13.6% margin of victory over his nearest rival, Conservative Zac Goldsmith.
In Scotland and Wales, the SNP and Labour were returned to power, albeit with fewer seats at Holyrood and the National Assembly respectively.
In local elections in England, Labour did better than expected in council elections, with numbers of elected councillors remaining largely unchanged across Labour, the Conservatives and the Liberal Democrats.
Developers in London are braced for a rather different approach from Khan to his predecessor Boris Johnson, given his emphasis on dramatically boosting affordable housing provision and taking a more cautious approach to planning.
Brian Berry, chief executive of the Federation of Master Builders, has welcomed Khan's policies to address construction skills shortages, but warned his 50% affordable housing target was "entirely unworkable".
He added: "As has been observed by others that, 50% of nothing is nothing, and this is a particularly pertinent issue for small developers. We urge the Labour candidate to introduce a small site exemption."
On infrastructure, Turner & Townsend 's UK infrastructure boss Patricia Moore warned Khan is on "a collision course with the Airports Commission" due to his support for expansion of Gatwick rather than Heathrow. She also questioned his pledge to freeze transport fares in the capital: "He has set himself an almost impossible challenge – to raise the funds needed to pay for vital upgrades through efficiency savings alone."
Alan Brown, chief executive of housebuilder Cala, warned the SNP's focus on affordable housing could be to the detriment of other areas of the market: "What Scotland really needs is housing policy that is far more balanced in nature, which encourages development at all stages of the housing ladder; not just at the bottom end of it."
London: Sadiq Khan's policies


Set a target that 50% of all new housing should be "genuinely affordable" to low-income earners
Introduce a new category of tenure, living rent, set at one-third of average local wages
Establish a Homes for Londoners group at City Hall, which will pull together all of the mayor's housing, planning, funding and land powers
Any shared ownership and for-sale homes built on land released by the public sector will be offered initially to Londoners who have been renting privately for at least five years
Set up a construction academy to help address the capital's skills shortages
Pledge to secure the Crossrail 2 line and Bakerloo line extension. Begin discussions on Crossrail 3 and improve orbital rail links around London's suburbs
Khan opposes a new runway at Heathrow, instead favouring Gatwick
Beef up London Plan to ensure that new tall building proposals respect the character of their surrounding neighbourhoods
Maintain the London Plan's commitment to zero-carbon housing
Scotland: SNP policies


Invest over £3bn over the next parliament to deliver at least 50,000 affordable houses, of which at least 35,000 will be houses for social rent.
Invest in Scotland's Help to Buy and Shared Equity schemes, helping first time buyers onto the housing ladder.
Invest £200m to expand the Golden Jubilee Hospital in Clydebank. Establish five new elective treatment centres in Aberdeen, Inverness, Dundee, Livingston and Edinburgh.
Increase the number of Modern Apprenticeships to 30,000 a year by 2020.
Deliver 100% superfast broadband coverage for Scotland by the end of the next Parliament.
Introduce a Warm Homes Bill to help tackle fuel poverty.
Bring forward a new Climate Change Bill to implement the Paris Climate Change Agreement; set a new target for Scotland to reduce emissions by more than 50% by 2020.
Build on the Land Reform Act to make land ownership more transparent
Wales: Labour policies


A £2bn school building programme
20,000 affordable homes and keep 'Help to Buy'. An end to 'Right to Buy'. Options for ending landbanking to boost housebuilding rates
100,000 all-age apprenticeships
Improved opportunities for public sector contracts to be secured by Welsh businesses
Business Clubs to bring work experience into schools and re-shape careers support
Fast broadband to every property in Wales
Metro systems in the North and the South
An M4 relief road, A55 improvements, and improve the A40 in West Wales