Unite members agree to pay deal after employers drop controversial entrant grade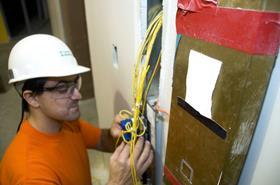 Electricians have agreed a pay deal after employers ditched a contentious plan to introduce a cheaper entrant grade.
Members of union Unite approved a 5% pay rise over two years under the JIB national agreement with a 79% majority, after 91% of workers originally rejected the deal in the summer.
Unite national officer Bernard McAulay told Building employers had agreed to drop the proposed "labourer" grade, which the union argued would "de-skill" the industry, and had also agreed to introduce the first pay rise from January 2015, rather than having a "six month lead in time".
Electricians will receive a 2% pay rise in 2015, followed by a 3% increase from January 2016.
McAulay said: "It's a very good settlement in a very difficult economic environment. Through discussions we made the point clear that the labourer grade was not a runner."
Employers have repeatedly tried to introduce a labourer grade for electricians - which would allow less qualified workers to carry out site tasks - but the move has been continually blocked by Unite.
The introduction of a labourer grade was a key component of the toxic BESNA pay and conditions proposals put forward by electrical contractors, which collapsed in 2012 after five consecutive months of protests.