Contractor announces promised details of £241m cash call
The final stage of Kier's plan to be debt free in the next couple of years was announced this morning with the firm telling the City it hopes to raise £241m in new equity by the middle of next month.
Chief executive Andrew Davies said last month that its £436m debt pile could be a thing of the past as proceeds from the equity raise and the £110m sale of its housing arm, Kier Living, which is being bought by a private equity group led by financier Guy Hands, are ploughed into cutting what it owes lenders. The Living sale is due to be completed by the middle of next month ahead of a planned general meeting on 16 June.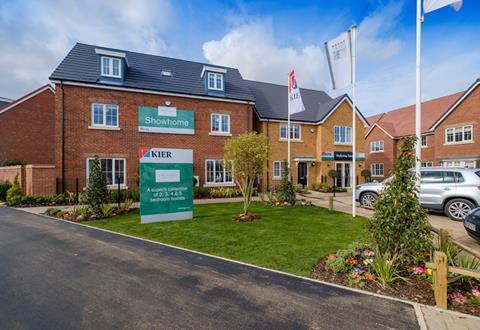 Davies, who along with chief financial officer Simon Kesterton and chairman Matthew Lester are each spending £75,000 on new shares as part of the raise, wants to get the business back to a net cash position within the next two to three years.
Kier's new shares will be issued at 85p each, a 17% discount on last night's closing price of 102.4p with the number of shares in the firm more than doubling to 446 million, diluting the existing shareholders by almost two thirds.
The firm has been forced into the move after coming unstuck following a four-year spending spree between 2013 and 2017 which saw it buy up rivals including May Gurney, Mouchel and McNicholas Construction, sometimes known as Green Macs.
In this morning's announcement, Kier said: "Whilst these transactions built on and added to Kier's leading positions in a number of attractive markets, they also left the business with a lack of strategic and operational focus, a complex and large cost base, and an over-leveraged balance sheet."
Davies joined two years ago last month after former boss Haydn Mursell, who led the acquisition programme, was ousted at the start of 2019 following a botched rights issue the previous autumn.
Davies began a clearout and brought in a new management team which Kier said "significantly strengthened" the business by "bringing directly relevant strategic and operational expertise, combined with broad and demonstrated experience in cost reduction and balance sheet strengthening".
The equity raise, which is being underwritten by brokers Numis and Peel Hunt, is due to be wrapped up by 15 June with the firm expecting the final amount that will be raked in to be just under £229m – once £13m of expenses and other fees are taken out.
It added that once lenders are paid off, a balance of £16.9m will be funnelled into its cash reserves. Just over £144m of the new cash will go towards repaying part of its revolving credit facility, with a further £60m being used to settle loan notes and other loan agreements.
Davies said: "This capital raise will provide Kier with the financial and operational flexibility to continue to pursue our strategic objectives within our chosen markets, and to facilitate investment in the business to help drive sustainable, profitable organic growth and the achievement of our medium-term financial targets."
Kier announced it would go to the markets for fresh equity at its interim results last month, where it said pre-tax profit in the six months to December 2020 was £9m from a £41m loss last time. Turnover was down from £1.9bn to £1.6bn.