Europe chief executive Steve Morriss points to problems in Spain and plays down role of Davis Langdon acquisition in £200m write-down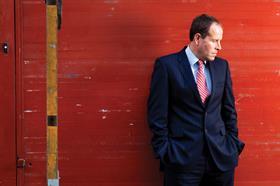 Aecom has reported a $58.6m (£36.9m) loss after a $317m (£200m) write-down on the value of its European and management support services businesses.
The firm's Europe division has had to write down the value on multiple acquisitions due to the economic downturn in the region, Europe chief executive Steve Morriss told Building.
Aecom's share price closed 13% down on Tuesday – $18.87 from $21.74 the previous day following the results announcement.
Morriss played down the potential involvement of the August 2010 $324m (£203.6m) takeover of Davis Langdon in the write-down, saying other acquired firms – such as the 2010 acquisition of 550-strong Spain-based technical services firm Inocsa – had been "most impacted".
Morriss said the write-down "relates to all acquisitions done over time and not just recent ones".
US-based Aecom's European division has been formed from around 12 mergers over the last decade.
The company said it made the write-downs after reviewing the "goodwill" value of all its global businesses.
Goodwill is an accounting term for the non-capital value of businesses – including reputation and staff skills – and is typically calculated on forecast future revenue and profit.
KPMG's head of mergers and acquisitions in the construction sector Jan Crosby said it had become "increasingly common" for businesses to have to make goodwill write-downs on European acquisitions because of the difficult market.
He said: "It doesn't make a difference to the functioning of the business as it's non-cash, but it often has an effect on shareholders as it sends a message out about the future cash generation prospects of a business."
Morriss said despite the write-down the European business increased its profit by £12m over last year and has made the "best start to a new year for four or five years" in this financial year.
He said Aecom is "still a year away from running really hot in all areas [in Europe]" but is "confident" the goodwill write-down is a "one-off".
He said he is starting to see a "big improvement" at Davis Langdon - particularly in its integration with other parts of Aecom - and dismissed suggestions the company has been weakened by scores of senior departures since the takeover, adding it had recruited "some really good people".
He said: "We believe the majority of the best people with the history of Davis Langdon written in their DNA are still here."
According to Morris, Aecom Europe is targeting growth in the transportation, sport, and London commercial sectors, as well as in Eastern Europe - particularly Turkey, Poland and Russia. The division is also considering mergers and acquisitions in the energy sector.
Aecom globally also reported its revenue was up 2% to $8.22bn (£5.18bn) from $8bn (£5.1bn) the previous year.
The write-down on the value of its Management Support Services business was down to a "loss of revenue" providing support to the US army in Iraq as troops began to withdraw from the country this year, Aecom said.