Seven countries including Britain urge the EU to better protect steel manufacturers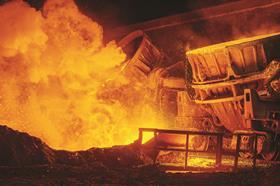 Seven countries including Britain, France and Germany have written to the European Union warning the continent's steel industry is at "risk of collapse".
Ministers from the three countries - alongside Italy, Poland, Belgium and Luxembourg - have urged bureaucrats in Brussels to introduce measures to better protect steel manufacturers in Europe from a deluge of cheap imports from overseas.
The letter, which is signed by the UK's business minister Sajid Javid, says: "The European steel industry – already weakened by the 2008 economic crisis – is tackling chronic use of unfair trade practices in a context of strong international competition intensified by overcapacity at global level.
"The European Union cannot remain passive when rising job losses and steelwork closures show that there is a significant and impending risk of collapse in the European steel sector."