Ministers to update steel procurement guidance for public sector projects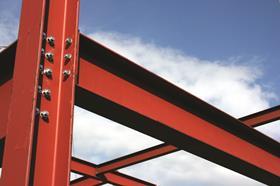 The range of public sector projects required to "specifically consider" the use of UK steel is to be broadened as part of measures to protect ailing domestic producers, the government has announced.
Central-government funded schemes are already required to assess the use of domestically-produced steel for projects, but the proposed measures would extend that requirement to the entire public sector, including council and NHS developments.
Guidance introduced in October last year calls on central government departments to "consider the social and economic impact of the steel they source across all major projects", with the understanding that contracts will not go abroad if the most competitive bid is British.
Under the strengthened rules, public procurements involving the supply of steel would need to "consider responsible sourcing, the training suppliers give to their workforce, carbon footprint, protecting the health and safety of staff and the social integration of disadvantaged workers".
According to a joint announcement by the Cabinet Office and the Department for Business Innovation and Skills, contractors working for the public sector will also be required to advertise their requirements for steel so that UK firms can compete.
It added that a list of approved steel suppliers would be established for use by the government and its contractors. The departments said the list feature companies that met stringent criteria including high standards around health and safety, environmental impacts, responsible sourcing, supply chain management and workforce training.
Business secretary Sajid Javid said the measures, which come against a backdrop of steelmaker TATA Steel Europe's announcement that it plans to divest itself of its UK operations - chiefly its Port Talbot works in south Wales, would help to ensure a level playing field for UK producers.
"I am determined to make sure we do all we can to secure a sustainable future for UK steel and find a viable solution that supports the workers and wider community," he said.
"By changing the procurement rules on these major infrastructure projects we are backing the future of UK steel - opening up significant opportunities for UK suppliers and allowing them to compete more effectively with international companies."
The government said that projects such as HS2, the Thames Tideway Tunnel, and Highways England's pipeline of work would see around £300 billion spent on major UK infrastructure projects over the next five years.
On Tuesday last week TATA announced that it was in the process of appointing advisers to assist with the sale of its UK operations.