Former development boss Mark Farmer joined by two other former Arcadis directors at start-up residential-led investment consultant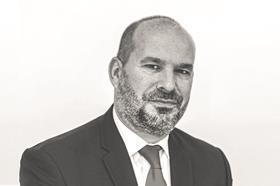 Former Arcadis development boss Mark Farmer will be joined by two other former Arcadis directors at his start-up residential-led investment consultant, which launched officially this week.
In a statement confirming the firm's launch, Farmer (pictured) revealed the consultancy will be called Cast, and that it has been co-founded with former Arcadis directors Joe Thornton and Neil Brearley.
Cast will have a particular focus on build to rent, student accommodation, senior living and high-end London schemes, as well as on harnessing modern methods of construction to deliver more cost effective housing.
Farmer said the firm will explore ways to make the most of off-site solutions and other technological innovations in housing. He said: "With housing such a huge political priority, the need to modernise and innovate is key.
"We want our new business to be at the forefront of markets such as build to rent and later living, where fresh investment can be used to promote longer-term thinking in construction and help drive housing output in the UK."
Cast will also place a strong emphasis on helping clients "navigate" the "significant amounts of risk to big projects" caused by "soaring construction costs and capacity led delivery issues", Farmer said.
Building revealed last month that Farmer was exiting Arcadis to start his own consultancy. Farmer said Joe Thornton had led Arcadis' private rented sector (PRS) team, while Neil Brearley had led schemes in the high-end London residential and super-prime markets.
PRS developer Essential Living will be a start-up client of Cast, with Farmer saying "we are basically leading client relationships driven by where those personal relationships exist".
However, Cast and Arcadis stressed the two firms will continue to collaborate. In a statement Cast said: "Cast will continue to work closely with Arcadis, offering specialised advice to Arcadis clients while enabling its new business to benefit from the extended UK expertise Arcadis has across the built environment and is continuing to build."
Simon Light, UK client development director at Arcadis, said: "We have enjoyed a long working relationship with Mark [Farmer] and continue to share our passion for client delivery, so I'm pleased that our professional connection will continue as we look to collaborate on a number of existing and future client projects."
Essential Living and developer Argent both welcomed the launch of Cast and in particular its focus on build to rent. Richard Meier, partner at Argent, said: "Mark and his team are very well placed to support our business in this [build to rent] field and their exciting new venture is great news for the industry".