Prices up £150 a tonne at British Steel
British Steel has raised its prices for the second time in less than a month, citing "extreme energy prices" for the hikes.
The Chinese-owned producer increased prices by £150 a tonne, having hiked them by £100 a tonne just over three weeks ago on 15 August.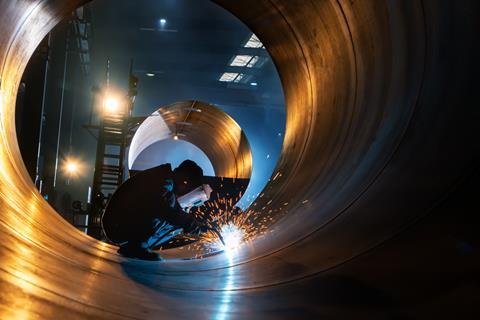 The double price hike comes after a period in which commodity prices appeared to stabilise.
At the beginning of August, consultant Linesight predicted a reduction in steel prices over the following quarter, on the back of US dollar strength and lowering Chinese consumption.
But as British Steel's commercial director Ben Cunliffe explained this week in a letter to steelwork contractors, rocketing energy prices have carried over into the cost of its product.
He said: "Due to extreme energy prices and the direct impact on steelmaking costs, I am writing to inform you that British Steel will be raising transaction prices for structural sections by £150 per tonne for all new orders with immediate effect."
>> Truss unveils £150bn plan to cap soaring energy bills
New prime minister Liz Truss yesterday announced that the government would be providing some form of energy price guarantee to businesses for six months, with energy-intensive sectors such as steel production likely to receive targeted support after that.
The Department for Business, Energy and Industrial Strategy last month launched a consultation on supporting such industries, with one option considered being an exemption from environmental policy costs.