Architect says a formal government response to his review of architecture "wouldn't be worth the paper it's written on"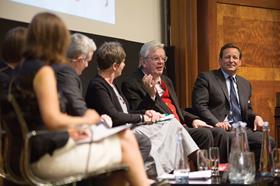 Terry Farrell has shrugged off the government's lack of a government response for his year-long review of architecture, declaring: "Ed Vaizey won't be here in six months."
The wide-ranging review, published last week, contains recommendations made across five areas - education, outreach and skills, design quality, cultural heritage, economic benefits, and built environment policy.
Recommendations include reforms to the planning system, making architecture more accessible to poorer students, appointing a chief architect, holding an annual international festival of architecture and getting public figures to do more to popularise good design.
More than half of the recommendations call for some action by government or the wider public sector, but Vaizey, the architecture minister who commissioned the report last year, said the government won't be issuing a formal response to the 60 recommendations, saying instead it would monitor progress after a year.
But Farrell told Building's sister title Building Design: "Even if they did [issue a response] it wouldn't be worth the paper it's written on. The government will change and Ed Vaizey won't be here in six months. There will be a new policy.
"What's important is that everyone else adopts this as policy."
His co-partner and son, Max Farrell, said the office had been inundated with offers of support since last week's launch.
"We'll be lobbying government for some things directly, like the leadership council, a chief architect and VAT reforms," he said. "But a lot of these recommendations are aimed at local government and others.
"We've had some great conversations with city leaders like George Ferguson who has asked if he can have Bristol as a test bed and who has already asked Vaizey if he can have some bylaws to make it happen."
They have meetings scheduled with planning minister Nick Boles at Number 10 – when proactive planning, Place reviews and urban rooms will be on the agenda – and with cities minister Greg Clark about involving cities around the country.
Merrick Cockell, chairman of the Local Government Association, is due to make a public statement urging local authorities to get on board, said Farrell, and shadow culture minister Helen Goodman has asked to visit their office later this month.
The practice has also been contacted by universities interested in the idea of a foundation year for all built environment courses.
"Hopefully this shows it's already disaggregated and everyone is starting to do their bit," said Max Farrell.
"A lot of people are saying 'the review is full of good ideas but will it actually make a difference?'.
"Most of that is pointing at central government and whether Vaizey can influence things in the way we want. But that's slightly misreading the intention of the review."