Portuguese firm drafted in at Royal Liverpool scheme
The cladding installed by Carillion on the Royal Liverpool Hospital is set to be stripped off by the original manufacturer.
Non-compliant cladding was discovered by Arup as part of a review into the job (pictured) following Carillion's collapse in January 2018.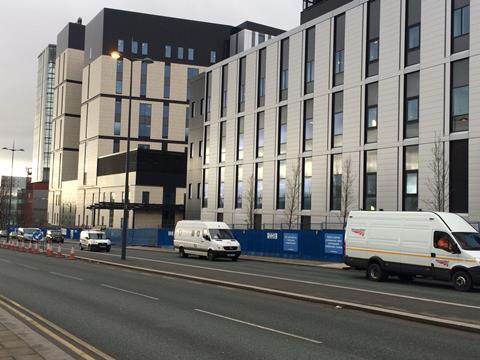 Portuguese firm Martifer will be drafted onto the job to carry out the work which is expected to take 20 months to complete.
The Liverpool University Hospitals NHS Foundation Trust, which is responsible for completing the project, put the cladding removal job out to tender in January over a year after problems were first identified.
But in a tender notice update released last week, the hospital said it was now cancelling the procurement process as the cladding will be removed by the original manufacturer.
A spokesperson for Liverpool University Hospitals NHS Foundation Trust said: "Following a thorough assessment of the cladding of the new Royal Liverpool University Hospital, additional work on a section of the cladding is being undertaken by the original supplier, Martifer."
The spokesperson added: "A procurement process to replace this section of cladding has therefore now been terminated."
In all, 10,000m2 of cladding will be removed with the issue one of a series of defects Arup found in the half-built hospital in the wake of Carillion's implosion.
Eight cracked beams were also discovered, costing £20m to repair, while asbestos was uncovered in the ground.
Laing O'Rourke has taken over from Carillion as the main contractor for the 646-bed hospital, which was originally due to complete in 2017.
The final bill for the hospital, which had an original cost of £350m, will now be at least £724m, according to the National Audit Office. It is not expected to complete until 2022.
Martifer, which is based in Oliveira de Frades in northern Portugal, has been contacted for comment.