Spanish infrastructure and contracting giant says overseas work makes up most of its construction activity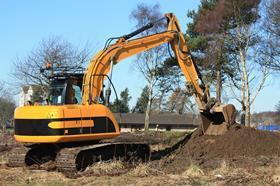 Spanish construction giant Ferrovial has reported a 10% growth in revenue in the first nine months of 2014.
In a trading update the firm, which is a major shareholder at Heathrow Airport, reported revenue of €6.5bn (£5.1bn) in the nine months to 30 September 2014, up from €5.9bn (£4.6bn) over the same period last year.
The Spanish contractor, whose UK jobs include work at Heathrow and on the London Underground, also reported an 11% rise in profit before interest, tax, depreciation and amortization (EBITDA) to €701m (£550m) up from €631m (£495m).
The company also reported a record order book of €28.4bn (£22.3bn), €7.7bn (£6bn) of which it said was construction work, the rest was in its services division.
The firm said that work outside of Spain rose to account for 77% of its construction revenue over the period.
It said that it had also benefited from improved revenue at Heathrow, where it has a 25% stake. It said the airport's revenue had grown 8.1% helping to boost Ferrovial's dividends from this and other major assets to €226m (£178m).
In October the firm announced that, alongside Australian bank Macquarie, it had agreed a deal to buy three UK airports at Southampton, Glasgow and Aberdeen for £1bn.