Spanish contractor increases its stake in the UK's aviation infrastructure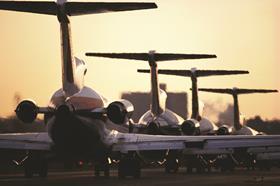 Spanish infrastructure and construction firm Ferrovial and Australian bank Macquarie have bought three UK airports in a deal worth £1bn.
Ferrovial has formed a 50:50 joint partnership with the Australian bank to buy Glasgow, Aberdeen and Southampton airports from Heathrow Airport Holdings, which Ferrovial already has a 25% stake.
The sale of the three regional airports will allow Heathrow's holding company to concentrate on the London airport, which is currently being considered as one of the main options for expansion of airport capacity by the Airports Commission.
Iñigo Meirás, chief executive of Ferrovial, said: "As a long standing investor in the UK, we are aware of the importance of these airports for the population in their surrounding areas.
"We are committed to improve these facilities and their services looking to a better passenger experience and in order to grant access to further domestic and international destinations."
John Holland-Kaye, chief executive of Heathrow, said: "This sale enables us to focus on improving Heathrow for passengers and winning support for Heathrow expansion."
The airports will continue to operate under the ownership of Heathrow Airport Holdings Limited until the transaction completes in January 2015.