Specialist constructs 'world-first' simulator with 18 units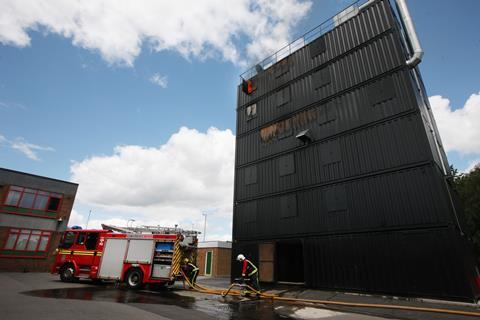 Dutch firm Haagen has built a six-storey high-rise training centre for West Midlands Fire Service out of specially-produced metal shipping containers.

The £600,000 building, unveiled by the brigade this month, saw 18 containers lowered into place at Oldbury Fire Station, near Birmingham, over a three-day period.

Its floors can be configured in a range of different ways and are linked by internal and external staircases, as well as a lift shaft.

The structure will be used to help crews and incident commanders understand fire behaviour in multi-storey residential and commercial premises, and will allow instructors to set fires in controlled conditions, varying ventilation, wind speed and the internal movement of smoke and fire gases.

The brigade said the structure was believed to be the first of its kind in the world and would be used to train its 1,300 firefighters, along with others from around the country.

Deputy chief fire officer for the West Midlands Phil Hales said the new facility would allow firefighters to prepare safely for a range of potential high-rise incidents.

"There are nearly 1,000 residential buildings in the West Midlands with four storeys or more; more than half of them have at least eights storeys," he said.
"In the last three years we've been to nearly 1,200 fires in tower blocks which, unfortunately, involved four deaths and 200 people being injured.
"We are seeing fewer and fewer fires in people's homes, however, a fire in a tower block is one of the most hostile environments for firefighters."
Haagen founder and director Jac Haagen said the Oldbury facility was "unique".
Last year, the firm completed the training zone for Strathclyde Fire and Rescue's £22m Uaill New Training Facility. It includes a selection of building types, ranging from a four-storey tenement block to transport and industrial structures.
Earlier this year, it handed over a mobile training unit to the Fire Services Department of Hong Kong that is based on two modified shipping containers.