Scheme due to be completed in 2025
Network Rail is on the hunt for a contractor to build a visitor centre and bridge walk for one of Scotland's most recognisable landmarks.
Up to four firms will be shortlisted for the £35m deal at the Forth Rail Bridge with work slated to be completed by 2025 – in time for the bridge's 135th anniversary.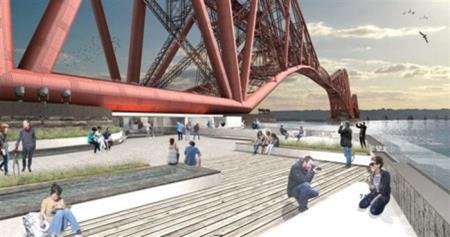 Firms have until 3 August to send in tenders for the job which is being split into two phases.
One part will involve building a bridge walk and reception hub on the south side of the site at South Queensferry costing up to £15m, while the second phase will involve building a visitor centre beneath the bridge's northern Fife tower along with glass lifts that will take an estimated 85,000 visitors a year to a viewing platform at the top.
The scheme (pictured), which had originally been drawn up to be completed in time for the bridge's 125th anniversary five years ago, was given the green light in the spring.
Arup is leading the design team which includes Edinburgh firm WT Architecture and South Queensferry landscape practice Paul Hogarth Company.