Strong balance sheets cut out temptation of buying work, John Morgan adds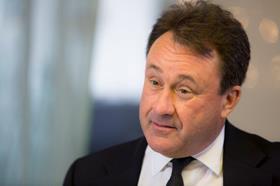 Morgan Sindall has revealed that the minimum daily cash it had in the bank in the past two years was £25m one day last September.
The firm, which last week produced another bumper set of results, ended up with year end net cash balance of £207m in 2018, having an average daily next cash position of £99m. It expects its average daily cash position to be in excess of £70m throughout 2019.
Morgan Sindall last went into the red back in 2015 when a number of problem jobs at the Faslane naval base in Scotland – which it inherited with its deal to buy Amec's building and civils business in 2007 – saw it turn in a near £15m pre-tax loss.
But the firm has made cumulative pre-tax profits of close to £190m in the three years since with chief executive John Morgan, who has been with the business more than 40 years and returned to the chief executive's role seven years ago after a dozen years as executive chairman, putting this down to having cash in the bank.
"It really enables you to make long-term decisions rather than going for short-term jobs," he said.
"There is a lot of talk about the construction model being bust. It's not bust but you need balance sheets to be strong so you make the right decisions in the medium to long term."
A number of he firm's peers, notably Kier and Interserve, have been weighed down by unsustainable debt levels with the pair along with Galliford Try, which has lost close to £150m on a road scheme around Aberdeen, and Laing O'Rourke, which has racked up cumulative pre-tax losses of £356m over the past three years, all striking refinancing agreements in recent months.
Morgan (pictured) added: "Balance sheets have never been more important than they are today. The model [the construction industry] should have is to have an average daily net cash position. I don't want to come into the office thinking 'where am I going to get cash from?'"
Morgan said the firm has £800m worth of construction work at preferred bidder stage but added it doesn't count it in its order book. "We are very cautious as a business. We only count it as an order when we have a contract."
The firm hiked pre-tax profit by a quarter last year to just over £80m on group revenue up 6% to just under £3bn.
Morgan Sindall's construction and infrastructure business takes 44 days to settle its bills while its fit out arm takes 26 days to pay up.