RLB among the firms hit by delays to the Somerset nuclear power plant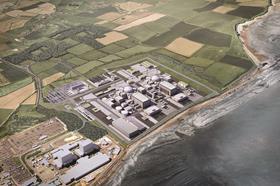 Firms working on the £18bn Hinkley Point C nuclear power plant have admitted their finances have taken a hit due to the project's delays.
Consultant Rider Levett Bucknall (RLB) had a contract on Hinkley Point C as a subconsultant and its chairman Ann Bentley has told Building the contract was cancelled when EDF paused work on the site as a final investment decision had still not been made.
She added that the contract termination put a dent in RLB's profit. Bentley said: "People we had allocated for years, instead of going to Hinkley they literally turned up in our office. They just sat there for two months until we were able to reallocate them.
"Five people for two months, that's ten months, almost a year's salary that came straight off our profits."
A director at a contractor working on the project said their company will only move workers back to Hinkley when a final investment decision is made.
He said: "We still feel pretty confident it will go ahead, but no matter how much EDF shout at us to mobilise, we are not going to actually do it until we see that money in our bank account."
It comes after the project director for Hinkley Point C, Christopher Bakken, recently announced he will leave EDF in April for a new role in the United States with energy giant Entergy.
Bakken leaves after four years with EDF, where he was responsible for design, licensing, procurement, construction and commissioning on Hinkley.