CIC says new questions will shed light on state of premiums and T&Cs in post-Grenfell environment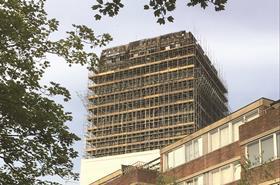 The chief executive of the Construction Industry Council has urged as many companies as possible to take part in the latest industry poll designed to find out whether insurance premiums have risen in the wake of the Grenfell tower fire.
Graham Watts said he wanted firms which had completed the first survey earlier this year to also take part in the new poll, launched earlier this week, to get a better picture of the insurance situation across the industry.
The initial survey in February this year aimed to collect data in the light of anecdotal evidence from some construction firms that insurance premiums were rising sharply following the Grenfell fire, Watts told Building.
Together with changes in insurance terms and conditions, such premium hikes were said to be affecting the ability of firms to do work in the areas of cladding replacement and other refurbishment work.
The new survey, which like the February poll is being carried out by industry groups the CIC, the CPA and Build UK at the government's request, features new questions and seeks to capture the experiences of firms whose annual renewals were missed by the earlier probe.
"The first survey for the government's Industry Response Panel showed some serious issues for a few firms but the majority saw no change to either premiums or the terms of their cover," Watts told Building.
"However that evidence was skewed because many respondents had not reached their renewal date. The second survey will hopefully capture much more data," he added.
And Watts said that recent anecdotal evidence suggested that the insurance market was "hardening", with Grenfell being only one of a number of factors.
"Representatives from the insurance firms have spoken at conferences over the summer and indicated that it's not just about Grenfell. This new survey hopes to shed more light on this.
"Are firms who have nothing to do with high-rise buildings or cladding seeing their insurance premiums going up? That's what we hope to find out and get a better picture of where things stand."
Watts said the industry would be meeting with government officials soon after the 20 September deadline for responses to the survey to discuss its findings.
To complete the latest insurance survey, click here.