Latest government figures show number of apprentices in construction has fallen one fifth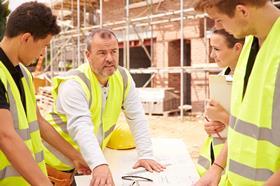 A flagship government policy to bring more workers into the construction industry is failing miserably, according to the Federation of Master Builders (FMB).
The Apprenticeship Levy came into force in April 2017 and applies to all firms which spends more than £3m on staff pay.
Currently, a levy of 0.5% of the total pay bill is converted into apprenticeship vouchers which can be used to employ apprentices.
And from this month firms can share up to 25% of their vouchers with businesses in their supply chain – previously they could only share 10%.
But statistics published by the Department for Education last week showed the number of new construction apprenticeship starts in January 2019 was down more than 20% from the year before, at 950.
The number of level two apprenticeships, which are equivalent to GCSEs, dropped from 712 to 555 year-on-year.
Brian Berry, chief executive of the FMB, said a lot of vouchers go unused while the skills shortage in the industry increases in severity.
"These latest statistics point to a serious failure of the government's Apprenticeship Levy. The government needs to make the Apprenticeship Levy work for small construction firms by increasing the proportion of vouchers that are permitted to be passed down the supply chain from large to small companies from 25% to 100%."
Berry said 64% of construction firms are struggling to hire carpenters and 61% are struggling to hire bricklayers – and the biggest employer of tradespeople is smaller businesses.