SEC boss Rudi Klein says firms should work out deals with clients as safeguard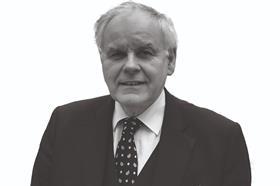 A leading trade body for subcontractors has told members working for Interserve to seek contractual assurances they will be paid by the contractor's client in the event of its collapse.
Rudi Klein, chief executive of trade body Specialist Engineering Contractors Group (SEC), also revealed that he has advised members not work for Interserve if possible.
Speaking at Building Live last week, Klein (pictured) said: "In the last few days I've had numerous calls from companies in the industry saying they have been asked to work for Interserve and what can they do.

"I've said: 'Well you can turn down the job. But if you feel you have got to do it tell the client they need to pay you directly if Interserve can't pay you and agree that with Interserve to make it kosher legally, or get the client to set up a project bank account'."
Last week SEC also called for a regulatory body to oversee procurement and payment practises in construction, as well as promote SME engagement and drive digitisation.
On Friday Interserve shares dropped to a new 34-year low, at 27p, following Kier's announcement that it was looking to raise £264m in a rights issue.
Interserve announced last month it was heading for a £650m year-end net debt pile following multiple write-downs associated with four outstanding energy-from-waste jobs.
In April the contractor wrapped up a near-£300m refinancing deal.
A spokesperson for Interserve said: "Following the successful completion of the refinancing in April, [Interserve] has traded robustly in some challenging markets and continued to win significant new contracts.
"We are working with all stakeholders including contractors to put in place the right standards, services, governance and financing to deliver a stronger future for Interserve's customers."