CAA's Andrew Haines is set to replace Mark Carne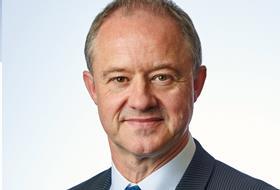 Outgoing Civil Aviation Authority boss Andrew Haines has been appointed to replace Mark Carne as chief executive of Network Rail – but he is in line or a serious pay cut.
Haines, who will join the national rail authority later this year, is set to be paid £588,000 a year, 27% less than his predecessor, who announced his retirement in February.
He will also have an 'at risk' performance related pay element of up to 9% of basic salary that will be dependent upon performance measured against safety, financial, asset management, project delivery and customer and train performance metrics. His salary will be reviewed annually.
Announcing the appointment, Network Rail chair Sir Peter Hendy said: "I am absolutely delighted to announce Andrew's appointment today. He was the most outstanding candidate in a highly competitive appointment process.
"Andrew will drive delivery of the railway improvements set out in the strategic business plan for 2019/2024, ensuring Network Rail's continuing focus on safety, performance and cost effectiveness, and thus delivering a better experience for the millions of passengers who travel every day on our railways."
Haines said: "Since my first job as a left luggage clerk at London Victoria I've been passionate about improving the services that the railways provide to customers and the wider economy."
Haines was appointed as a board member and chief executive of the Civil Aviation Authority in August 2009 and for a further five years in August 2012.
Before this he worked as managing director of South West Trains and as managing director of the Rail Division for First Group.
He is currently a non-executive director of Eversholt Rail UK, which he will step down from upon joining Network Rail.