Architect to develop 230,000ft2 riverside office development near Tower Bridge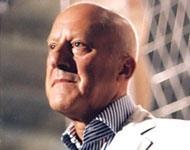 Architect Foster + Partners has been appointed to design the redevelopment of Sugar Quay in London for developer Christian Candy.
The site, by Tower Bridge on the north bank of the Thames, has planning permission for a 230,000ft2 office development and was bought by Candy's CPC Group in February this year for an undisclosed sum.
At present, it houses an empty 100,000ft2 office building that sugar company Tate & Lyle used to occupy.
Christian Candy, founder of CPC Group, said: "We are working closely with the team at Foster + Partners to review the possibilities for the site, which could be an existing office upgrade or redevelopment for commercial or residential use, subject to freeholder consent and planning."
The two firms have previously worked together on 21 Chesham Place, a boutique residential development in Belgravia.
A new application for the site is due to be submitted in the final quarter of this year. The site's leasehold owner is the City of London's Worshipful Company of Fishmongers.