City of London's own public realm team tell colleagues controversial attraction won't be able to handle demand at street level
City of London officials responsible for public space have said they cannot support Foster & Partners' controversial Tulip proposals because the ground-level access for the attraction is not good enough to handle a huge influx of visitors.
Foster's scheme for a 305m tall tower next to his practice's Gherkin building has drawn fire from heritage groups Historic England and Historic Royal Palaces – which manages the Tower of London – as well as from the Greater London Authority since it was unveiled in November last year.
Now the City's own built environment team has stuck the knife into the proposal, created for billionaire Gherkin owner Jacob J Safra, which is targeting tens of thousands of visitors a year.
The City's group manager responsible for public realm, Tom Noble, said footpaths in the vicinity would not be able to cope with the influx of people visiting the Tulip and that officers did not believe measures proposed by the design team were acceptable.
"We have serious concerns about the capacity of the public realm to adequately manage the additional number of people that this development will bring," he said in a letter to planning officers.
"Furthermore, we believe that the quality of the public realm will not be of the standard required to support and advance the development and the wider City Cluster."
The attraction would sit on a huge concrete shaft and boast 12 storeys of attractions, including a sky bar, rotating external viewing pods and educational facilities expected to attract 20,000 schoolchildren a year alone.
Firms working on the scheme include QS Alinea and construction consultant Skanska which built the Gherkin.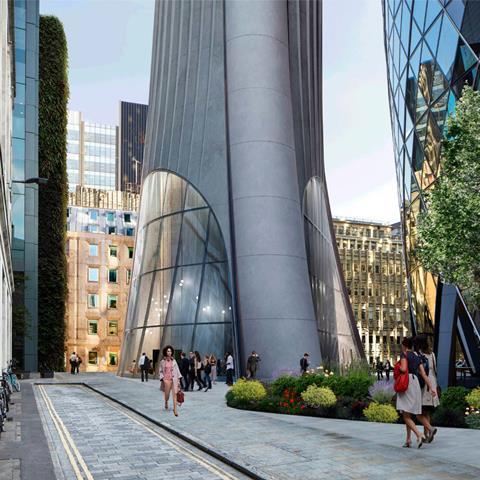 Noble said that public realm measures proposed in the design and access statement supporting Fosters' planning application were "unacceptable and would likely lead to people walking in the carriageway and experiencing discomfort".
He added: "We do not believe that the current proposals will be of benefit to the City Cluster and therefore do not support the proposals in their current form.
The fears follow concerns from planning officers at the Greater London Authority who last month raised a litany of objections to the proposals on design, heritage and transport grounds.
They said that while the principle of a new visitor attraction in the City was acceptable, the scheme's failure to provide "free-to-enter publicly accessible viewing areas" was at odds with the London Plan, while its height was "unjustified" and its shaft would "appear incongruous".
The City of London is targeting the determination of the application by the end of next month.