Railway racing to meet revised opening timetable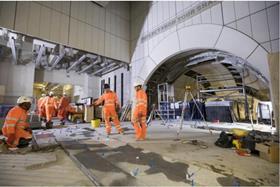 Crossrail chief executive Mark Wild has brought in fresh faces to get several problem sites on the late-running project back on track so it can hit its revised opening schedule.
The news was revealed in recently released minutes from an April meeting of the project's sponsor board which is run by the Department for Transport and Transport for London.
Crossrail declined to say who it had drafted onto the jobs but the minutes said the "additional resource" would "strengthen the programme leadership [with] new project managers brought onto sites".
It added Wild had decided extra resources were needed for "several critical contracts".
These include Bond Street station, being built by a Costain/Skanska team, which will open some time after March 2021 – when the rest of the central section of the railway is due to open.
And it said the C610 tunnel contract was also being handed more staff. This is a £300m job that is carrying out major fit-out work for the new rail tunnels of the central section.
A joint venture made up of Costain, TSO and rail specialist Alstom Transport was awarded this job in 2013.
The £17.6bn Crossrail scheme, which was slated to be ready last December, is now due to open some time between October next year and the following March.