Government recruits senior suppliers, architects, consultants and housebuilders to industry leadership group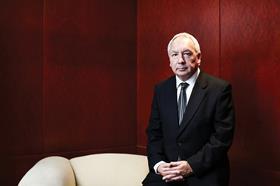 The government has announced five new members of the Construction Leadership Council - responding to industry criticism of the recast body by widening its representation from tier one contractors to suppliers, architects, consultants and housebuilders.
The new members are David Cash, chairman of architect BDP, Mike Chaldecott of supplier Saint Gobain, Brian Morrisroe of Morrisore Construction, Simon Rawlinson, representing consultant EC Harris and industry group the the Strategic Forum and Stephen Stone (pictured) of housebuilder Crest Nicholson.
The first meeting of the newly-formed Construction Leadership Council (CLC) is scheduled for next month.
In July the government announced it was relaunching the CLC, which was downsized from 30 members to just 12. The government also announced it will not renew the role of chief construction adviser - currently held by Peter Hansford - whose tenure ends in November.
Announcing some of the new CLC members, Hansford said the government "very much supports this streamlining" of the council.
He added: "We started with some 31 members, and this was important in 2013. But as anyone who has chaired a group of over 30 members will know, large groups do not make for the most effective action."
Hansford was speaking at the Construction Industry Summit in London, which gathers leaders from across the construction industry to network and share ideas to deliver the Construction 2025 strategy.
Answering a question on the lack of materials representation on the CLC, Hansford said it's the CLC members' responsibility to get the whole industry involved.
He said: "What I presented was the leads of the six workstreams. It's for the work stream leads to gather the people around them to make it happen.
"This is an opportunity for more people to be involved, not less."
Welcoming the new members, skills minister and CLC co-chair Nick Boles said: "The renewed Construction Leadership Council will provide more business-focused change for the industry, and I'm pleased to be joined by some of its leading figures.
"From small but ambitious firm Morrisroe to major housebuilder Crest Nicholson and international architects BDP, the new Council brings together the expertise we need to help UK Construction build on recent growth as the foundation for future success."
More to follow…
CLC members
Co-chairs
Nick Boles MP, Minister of State for Skills, Department for Business, Innovation and Skills
Sir David Higgins, High Speed Two (HS2)

Members
David Cash, (BDP)
Mike Chaldecott, (Saint Gobain)
Brian Morrisroe, (Morrisroe Construction)
Mike Putnam, (Skanska)
Simon Rawlinson, (Strategic Forum for Construction / EC Harris)
Madani Sow, (Bouygues UK)
Anna Stewart, (Laing O'Rourke)
Stephen Stone, (Crest Nicholson)
Andrew Wolstenholme, (Crossrail)
Department for Business, Innovation and Skills
Other government departments - agenda dependent
(New members in italics)
Workstreams
Anna Stewart - People and Skills
Andrew Wolstenholme - Smart and Innovation
Mike Putnam - Green and sustainable
David Cash - Exports and trade
Madani Sow - Supply chain and business models
Simon Rawlinson - Industry communication