Revenue down 9.2% but profit lifts marginally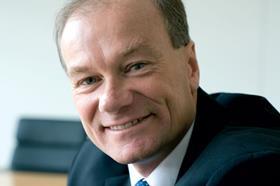 Galliford Try has posted solid half-year results for the six month period ended 31 December 2012.
Revenue dropped 9.2% to £678.3m from £746.8m the previous year, while pre-tax profit lifted marginally by £100,000 to £32.3m from £32.2m.
The contractor increased its dividend by 33% to 12p, up from 9%, as part of the "continuation of its progressive dividend policy".
The firm said its focus will be a "disciplined growth strategy with a focus on margin improvement".
The firm's housebuilding division – which has doubled in size in three years – enjoyed a record number of completions over the period of 1,364 units, up from 1,352 units.
The firm added: "Following the successful doubling in size of our housebuilding business in the three year period to June 2012, our disciplined growth strategy with a clear focus on improving margins is now fully embedded in the business.
"We will retain our focus on the more robust southern market, where we currently have around 75% of our landbank and where we continue to see good opportunities to acquire new land at attractive prices.
"As previously announced we intend to increase our housebuilding operating margin by an incremental three percentage points by maximising the efficiency and effectiveness of our operations. This will be mainly realised on new developments with the margin benefit coming through more strongly in the financial year 2014/15 and beyond."
On its construction division, the firm said: "In construction, our strategy continues to be based on winning work in markets and sectors where there are barriers to entry and where we are able to add value for our clients, thus earning an appropriate margin.
"In the context of a difficult market, our construction business had an encouraging first half year in line with our expectations and winning work that fits our strict criteria. The business will continue its focus on cash management.
"We believe that we are well positioned to resume growth when markets allow."
Greg Fitzgerald, chief executive, said: "In a stable market we are seeing continued momentum in housebuilding particularly in the geographic regions where we operate.
"Underlying growth is strong given that last year's results included a contribution of £6.9 million from one significant land sale.
"In line with our stated strategy and progress to date we will continue our disciplined focus on margin enhancement in housebuilding.
"Our construction business continues to deliver a robust performance against the backdrop of a difficult market.
"We have maintained our core skills and our focus on margin protection, thus delivering profits whilst managing our planned reduction in turnover.
"We are also encouraged by our performance since the start of the calendar year and are confident of meeting the Board's expectations for the full year.
"Reflecting our strong first half performance and future confidence we have increased the interim dividend by 33%."
Ken Gillespie, managing director of Gaillford Try Construction, said he expected the construction division's annual turnover to remain around £800m a year for the foreseeable future.
He added: "Margins will drop back a little bit more before they stabilise."
He also said he expected the firm's construction arm to see a small swing of up to six percentage points towards greater private sector work as public sector revenue drops off.
Gillespie said the firm was focused on winning work in the water sector for its next regulated period of spending from 2015 to 2020; preparing to pick up projects under the revitalised private finance initiative PF2 and the leisure market outside of London which he said was "active".