The company made a writedown of £20m in the second half of its financial year.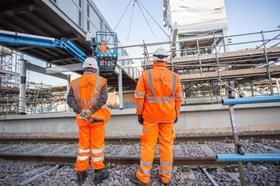 Galliford Try has been forced to make a further £20m writedown on its disastrous Aberdeen road job.
The firm wrote off £25m on the project in the first half of its financial year, with the total additional charge to date now sitting at £123m.
Galliford Try said the writedown "reflected the additional share of costs taken on following the insolvency of Carillion, one of our two joint venture partners, and further cost rises in the second half of the financial year, driven mainly by poor weather conditions".
The firm said the additional £20m writedown was inline with the warning it gave in May.
Peter Truscott, the company's chief executive, said the project was due to be finished in "late autumn" - 12 months later than it was originally expected.
The deal for Transport Scotland has been blighted by weather problems since work began more than three years ago – parts of the site were under water following devastating floods at the end of 2015 – as well as complications with the ground conditions with large sections of it passing through undulating countryside.
The job, known as the Aberdeen Western Peripheral Route (AWPR), was bid under a lump sum fixed price prompting Galliford Try's construction boss Bill Hocking, who joined the firm from Skanska nine months after the scheme started, to draw a line under these sorts of schemes. "We will not do mega, lump sum fixed-price jobs anymore," he told Building earlier this year.
In April, Galliford Try said it had raised £144m in a rights issue to cover spiralling costs on the problem-plagued £745m AWPR project.
The contractor revealed the proceeds would be used to cover soaring costs in relation to the bypass, which it is building with remaining joint venture partner Balfour Beatty.
The writedown had a negative impact on Galliford Try's construction business which recorded an operating loss of £29.1m. But this was an improvement on last year where the construction arm haemorrhaged £88.2m.
Truscott said: "The underlying Construction business performed well and continues to see a pipeline of suitable opportunities, with new projects delivering improved margins.
"We have made good progress towards completion of the AWPR contract, with significant sections of the road open to traffic and the final section expected to be open by late autumn 2018."
The construction business was a dark spot on a bright set of results, which saw the company as whole record a 145% increase in pre-tax profit, with this figure growing from £58.7m in 2017 to £143.7m this year.
Group revenue, which now sits at £2.9bn, grew by 10% from £2.7bn last year.
Linden Homes, the firm's housing arm, recorded a 1.1% increase in revenue and an 8.3% growth in profit.
Revenue increased from £937.4m to £947.3m and profit from operations increased from £170.3m to £184.4m.