Charge will be less than £25m reported in first half, says contractor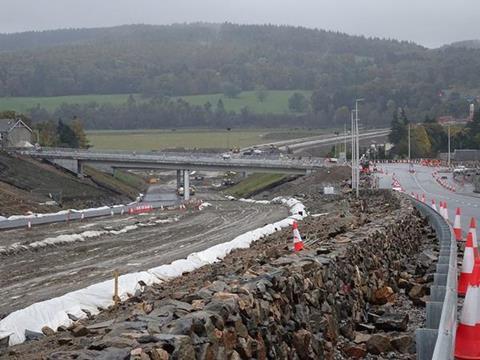 Galliford Try will take a further financial hit on the troubled Aberdeen road scheme, although the contractor is launching several claims over the job and expects "practical completion" of the project in the summer.
The contractor was one of three firms working on the road (pictured) in north east Scotland, along with Balfour Beatty and Carillion, which collapsed in January.
But long periods of bad weather have put the work on hold and the delays have cost the surviving firms tens of millions of pounds.
In a trading update, Galliford Try said further weather-related cost pressures meant it was likely to increase the exceptional charge in the current year.
It said the amount would depend upon progress made during the summer but it expected it to be lower than the £25m taken in the first half. "We are continuing to discuss several significant claims," it added.
Last year the group reported a near £89m hit on two un-named jobs with the bulk being attributed to the Scottish road project, known as the Aberdeen Western Peripheral Route.
Earlier this year it launched a rights issue to raise £150m, largely to cover the cost of the delayed schemes.
Galliford Try said trading between the beginning of the year and the middle of May had seen its construction order book dip slightly to £3.3bn, down from last year's £3.5bn.
Its Linden Homes business had £1.2bn-worth of sales reserved, contracted or completed, level with last year. Around £904m was for the current financial year to 30 June 2018, down from £915m a year ago.
The group's partnerships and regeneration operation had a contracting order book of £1.5bn, versus £980m in 2017.
Last year Galliford Try reported £2.8bn in turnover and pre-tax profit of £58.7m, after exceptionals.
It is expected to announce its 2018 results in September.
Balfour Beatty confirms summer completion
In a trading update ahead of its AGM this Thursday, Balfour Beatty said completion of the Aberdeen road "is still expected this summer" adding that "there is no change to the £105-£120m Balfour Beatty cash outflow guidance for 2018 provided at the full year 2017 results".
It added that it was on course to meet industry standard margins in the second half of the year.
Chief executive Leo Quinn has told bosses at the firm's UK construction business that margins should be 2%-3%, while its US construction business has been given a lower target of 1%-2%. Its support services business, which includes its utilities and transportation arms, has been given a target of 3%-5%.