Just-released transcripts detail designer's involvement with doomed Thames Crossing project
Designer Thomas Heatherwick long considered the horticultural aspects of the ill-fated Garden Bridge project to be just a "device" to create new public space, it has emerged.
Newly released interview transcripts from Margaret Hodge's inquiry into the now-abandoned folly give detailed insight on Heatherwick's early involvement in the scheme and his decades-old interest in public projects.
In the documents, released by the Greater London Authority, the designer talks about his initial involvement in the project, which was the brainchild of Joanna Lumley, and which he said was first discussed with the actress in 2002.
"What really struck me was that plants were a device, it wasn't a romantic thing about 'flowers are so lovely', it brought the human scale down and making a place that connects," he said.
"She'd say, 'It's not a bridge with flowers on, it's a garden that connects north and south', and that struck me as a clarity."
Heatherwick said that as a child in the 1970s and 1980s he had been struck by the extent to which nothing architecturally daring happened in London and felt Britain was "paralysed" by its heritage, until projects like the London Eye came forward in the 1990s.
But he said he had been impressed by Lumley's commitment to placemaking when he had heard her speak at events when he was a student at the Royal College of Art.
"I'd seen her at these lectures about the future of London about 22 years ago, before a mayor was appointed, and they were the most exciting meetings I've ever been to," he said.
"I remember everyone was worrying about how are we going to breathe life into the South Bank which didn't have a London Eye, didn't have a Globe, didn't have those things, and she was there – I remember seeing her in a couple of those lectures and at the time I just thought, 'what's she doing here, she's an actress?'
"And so there was someone who was very seriously interested in cities; that's what was nice, to have my preconceptions busted.
"But I knew 14 years ago, I'd just got going with my studio, I had no platform to help make anything happen and I also knew that design wasn't the issue."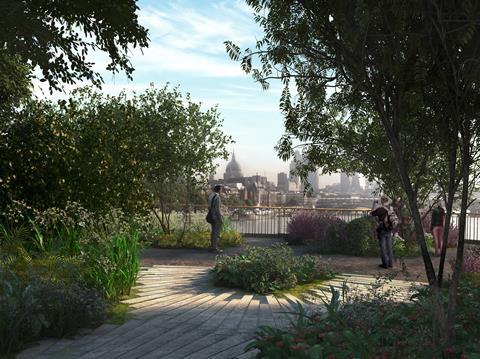 Heatherwick also told Hodge that he thought he may have been introduced to Lumley by design luminary Sir Terence Conran.
Hodge's final report concluded that project was staring at a £70m funding gap and that its eventual cost could exceed £200m – more than three times the original estimate.
Her findings prompted London Mayor Sadiq Khan to announce in April that he would not act as guarantor for the structure's annual maintenance cost, which was a condition of planning approval granted for the scheme.
Trust chair Lord Mervyn Davies said the organisation was "incredibly sad" to have been unable to make the bridge a reality, a situation he laid squarely at Khan's feet.
"The Garden Bridge would have been a unique place; a beautiful new green space in the heart of London, free to use and open to all, showcasing the best of British talent and innovation," he said.
"It is all the more disappointing because the trust was set up at the request of TfL, the organisation headed up by the mayor, to deliver the project.
"It is a sad day for London because it is sending out a message to the world that we can no longer deliver such exciting projects."
Hodge said the project had already used up £37.4m of public money and that an agreement to underwrite cancellation costs by the government could bring the bill to the taxpayer up to £46.4m.