David Higgins says national competitiveness at risk if government fails to commit to building line
The former chair of HS2 has said pulling the plug on the scheme would risk the UK slipping behind its peers because crucial infrastructure here is not up to scratch.
David Higgins – who stepped down last year after four years in the role – told Building in an interview that the government needed to keep its nerve and commit to building the line, the first phase of which will run from London to Birmingham.
The former Network Rail chief executive said: "People forget how bad and how challenging it is to run the existing network.
"It's an unbelievably difficult network to run, and West Coast in particular – its alignment, gauge, embankments, cuttings, tunnels are 180 years old so it will never be modern […] Now you either replace it with HS2, or you replace it with HS2 in 20 years' time and pay three times the price.
"If we need to compete in an external world, we need everything to work here and the idea that [we can when] we have a 180-year-old railway line creaking at the seams – which I know, because I ran it –[then] it's just impossible to think we have any chance of competing internationally when we have such poor infrastructure.
"It's why we need decent 5G; it's why we need decent airport capacity in the South-east. We can't afford to have substandard infrastructure when we are in a highly competitive external world."
He added: "The need to rebalance the economy is overwhelming and in a post-Brexit world it's even more important. The country needs to just get on with it. It should just stop anguishing over something and get behind a major project and see it finished properly."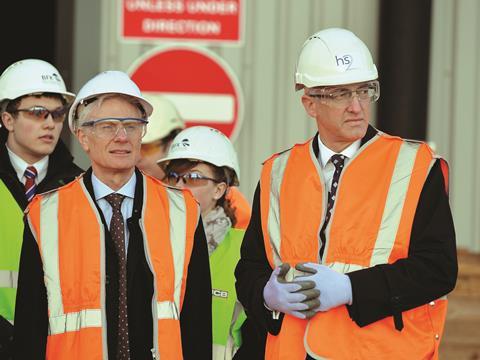 The £56bn scheme, originally budgeted at £32bn, has come under fresh scrutiny in recent months following the spiralling costs of the Crossrail route in London. Some MPs are demanding the HS2 project be scrapped and concerns about costs have been raised by Andrea Leadsom, leader of the House of Commons, and former foreign secretary Boris Johnson.
Liz Truss, chief secretary to the Treasury, has warned that this year's Spending Review will be "examining all major investment projects", adding that "we must be prepared to junk the white elephants".
This week Alistair Darling, who signed off on Crossrail when he was transport secretary, joined the list of HS2 sceptics when he told Building: "It would be better to spend the money on improving lines in the Midlands and the North-east and west of England and their links to the East Coast.
"Smaller-scale projects are easier to manage and, importantly, deliver on time and cost."
But Higgins' replacement at HS2, Sir Terry Morgan – the former Crossrail chair who was forced out of both roles at the end of last year over the scale of delays and cost overruns at Crossrail – said the scheme would get built.
"This has the support of government and Labour and that's so important. Yes, you've got constituency MPs who continue to talk about the impact it's going to have on their own constituencies, but that's always the case with big projects. Once you start going, I think people will start to appreciate that there's a huge benefit to this degree of inward investment."
HS2's chief executive, Mark Thurston, has said ways to save money on the scheme could include reducing the number and speed of trains.
But Morgan said: "If you reduce the frequency of trains it compromises the business case."
He added: "There's no doubt in my mind at all that the project team are working on the basis that there's no more money and so they are looking at innovative ways of trying to get the same solution but within that funding envelope that's available to them."
Morgan said the challenge of building a new station at Euston is "quite immense" and suggested leaving it out of the first phase of works "might give the programme benefit by taking some of the pressure on the timing issues around doing the work at Euston".
Yesterday, HS2 awarded the contracts to build new stations at Euston and Old Oak Common to teams led by Mace and Balfour Beatty respectively. The two jobs have a combined pricetag of around £2.6bn.