Mayor's first approval for Kensington Forum hotel was dropped after 2018 High Court challenge.
A controversial £1bn hotel scheme in South Kensington which was rejected by the council two years ago has been given the green light for a second time by the Greater London Authority (GLA).
The new Kensington Forum hotel will include a 30-storey replacement for the hotel's existing 29-storey premises, a £90m adjoining block containing 62 affordable apartments and a 2,700 sq m "garden square".
Designed by architect SimpsonHaugh for hotel owners Queensgate Investments and developer Rockwell, the new hotel will replace the existing building's 906 rooms with 749 rooms and 340 serviced apartments along with a spa, restaurants and conference facilities.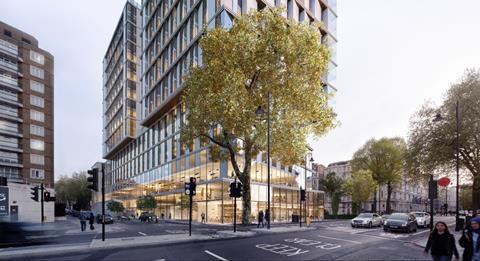 The original proposals, which would have included 20 affordable homes in a 46-apartment block, were approved by London mayor Sadiq Khan in October 2018 despite being rejected by the Royal Borough of Kensington and Chelsea.
Following nearly 800 objections to the scheme from local residents and a High Court challenge by the council on the grounds that the mayor had not given the government a chance to call in the scheme, the GLA later withdrew its approval.
But the rejigged proposal, which includes nearly £3m in public realm improvements to the area around nearby Gloucester Road station, was approved for a second time by the GLA on Thursday evening.
A main contractor and enabling contractor for the demolition of the existing building are yet to be appointed. Construction is expected to take around four years.