Westminster council approves scheme that will increase ground's capacity to 29,500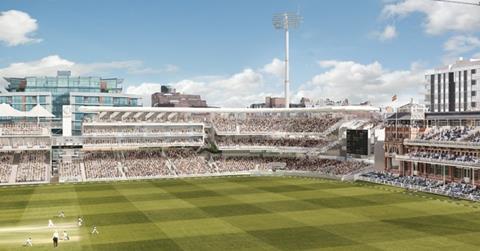 The Marylebone Cricket Club has won planning permission to expand Lord's cricket ground with a new stand, offices, a banqueting suite, and a pub.
Westminster City Council approved the development on Tuesday, which will increase the ground's capacity by 5,200 seats to 29,500.
Known as the 'South-Western Project', it comprises phase two of the Lord's Populous-designed masteplan. The earliest that work will begin on the project will be autumn 2019, due to the need for Lord's to be free of building works that summer for the ICC Cricket World Cup.
Work on phase one of the masterplan, the redevelopment of the Warner Stand, began in September this year and is being delivered by Bam, with the new stand to be completed by the 2017 season.
The key components of the second phase are:
A new Tavern & Allen Stand - a single structure to replace the existing two. The design incorporates 5,200 seats, an increase of 1,082 seats compared to the existing stand.
A new Thomas Lord Building with a street-facing reception, a banqueting suite, and offices for MCC staff.
A new Tavern pub, opening into the Harris Garden rather than onto the street.
Enhancement of the area around the Grace Gates to establish a more welcoming, pedestrian-friendly public realm.
A new Harris Garden Building with a bar facing out onto the Garden and additional dressing rooms both for squash and tennis players, and to better accommodate double header matches.
Reorganisation of the Pavilion to enlarge the dressing rooms, and convert a current office, physio room and women's toilets on the corridor between the two dressing rooms into space for team management and a players' gym.
An enlarged and deepened basement which will enable vehicles to make deliveries directly to catering facilities etc. underground, removing the need to use the Grace Gate entrance.