Architects have until next month to work up designs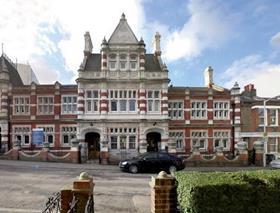 Six practices have been shortlisted for a £1.8 million scheme to build a new art gallery at Goldsmiths College in south-east London.
The arts college launched a competition for architects to register their interest in the project at New Cross two months ago.
More than 80 firms expressed their interest with the competition jury, which includes sculptor and former Goldsmiths student Antony Gormley and David Chipperfield, whittling this down to half a dozen firms.
The college, which is part of the University of London, said the new gallery will enable it to hold curated exhibitions, residencies and research projects.
Goldsmiths head of capital projects Anja Soetbeer said: "We are now looking forward to seeing some inspirational designs."
The 400sq m gallery will be built on the back of the grade II Laurie Grove Baths, with its main exhibition space in two steel tanks.
A new entrance hall will be built on the front of the tanks and entrants are encouraged to create a connection with the Will Alsop-designed Ben Pimlott Building behind.
The six have until the middle of July to submit their designs.
The shortlisted practices
6a Architects
Assemble
Dow Jones Architects
Harry Gugger Studio
HAT Projects
Jamie Fobert Architects
Source
This story originally appeared on Building Design here.